Become PADI certified
If you've always wanted to learn to dive and experience the joy of the underwater world, but find yourself a little short of time or money, the PADI Scuba Diver course with Dive Academy is the ideal first step for you. Under the supervision of one of our PADI instructors you will complete academics, pool training and Open Water dives. PADI Scuba Divers are qualified to dive to 12 metres under the supervision of a PADI professional meaning that you can undertake guided dives on holiday or here in the UK. You will then be able to upgrade to the full PADI Open Water course at a time convenient for you.
What will I learn?
The course is in three parts:
1. Academics
Using the PADI Open Water Touch system, you'll be able to learn academics at your own pace using a computer connected to the internet, or download it to an Apple or Android tablet for offline completion. You'll work through the first three sections introducing you to diving equipment, skills, problem management and the natural world. Multiple choice assessments as you go help you to track progress through the course.
2. Pool Training
When you come into Dive Academy for your pool training we'll begin with a quick review of academics and then complete a practical session to understand how to assemble, put on, and disassemble a scuba unit. We'll then complete three pool dives together.
You do need to be able to swim - at your first pool session we will ask you to undertake both a 200m swim (no time limit, but without stopping) and a 10 minute float or tread water.
3. Open Water Dives
You'll complete two dives in the open water with a PADI Instructor to put into practice what you learned in the pool. You'll repeat skills in Open Water to demonstrate what you've learned. On completion of this course you will be able to dive to 12 metres under the supervision of a PADI Divemaster, Assistant Instructor or Instructor..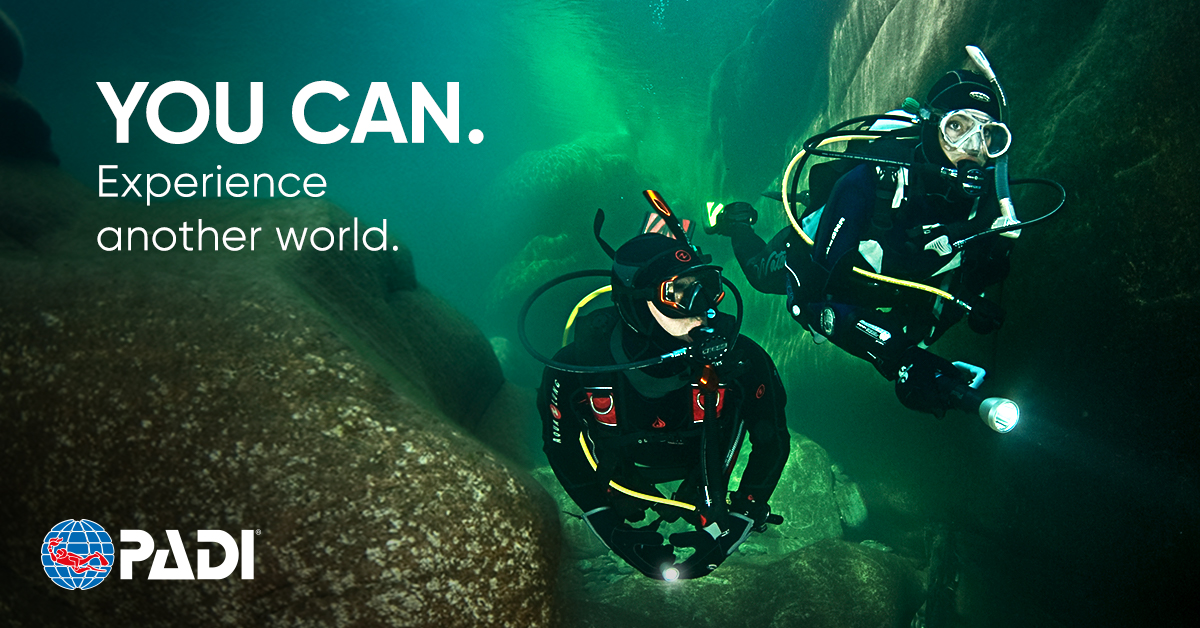 Equipment
In the PADI Scuba Diver course, you'll learn to use basic scuba gear including a mask, snorkel, fins, regulator, buoyancy control device and a tank.
The best way to learn to dive is in your own, professionally fitted high quality scuba diving equipment. Students who purchase their own equipment before completing their course or immediately afterwards tend to dive more and become better divers.
However if you are not able to purchase your own equipment prior to your qualifying dives we can supply all items at no extra charge except a scuba diving mask, snorkel, fins and boots. These tend to be personal items which you will be able to use for scuba diving and snorkelling after the course. If you do not already own these items we have a wide selection at Dive Academy and have some discounted packages available for you to consider. It is important that these items are properly fitted, especially the mask, your instructor will be able to help you identify the correct equipment for you.
What's next?
Next you'll move on to the PADI Open Water Diver course, completing two more online academic sections, two more confined water sessions and your final two Open Water dives. You will then be qualified to dive to 18 metres with a similarly qualified buddy.
Are there any restrictions?
Participants should be aged 12+ and in reasonable physical health. There is a medical questionnaire all participants will be required to complete on the first day, please review the seperate tab for full details.
Scuba diving is a physical activity and can be tiring. You should arrive for your training sessions well rested. Where your course takes place on consecutive days, it is unwise to arrange other activities in the evenings as you will likely be tired and will need to rest before the next day's training.
If in the instructor's opinion you are too tired, hungover or under the influence of alcohol or drugs, you will be asked to resume your training on a future date for which an additional fee will be payable.
Please ensure you click the info box and read all of the tabs especially the medical questionnaire prior to booking.